Heto ako, basang basa sa ulan. Walang masisilungan, walang malalapitan. ♪ ♫ Ooops. Hold there, lovebug. Rainy season does not mean you will get wet and gloomy. On the opposite side, it actually brings a lot of good sentiments on your wedding day! Allow us to break it to down to you.
Rain Means Good Luck
According to Hindu traditions, rain on your wedding day symbolizes a long and lasting marriage (because they said that a wet knot is harder to untie). Other wedding superstitions say that rain washes way your bad memories and prepares you for a new start. In cultures such as African, Inca, Voudou, Armenian, Cananite, Norse, Hawaiian, Indigenous Australian, some deities are thought to be both bearers of rain that is associated with fertility and abundance. So actually, having rain on your wedding day is a blessing in itself!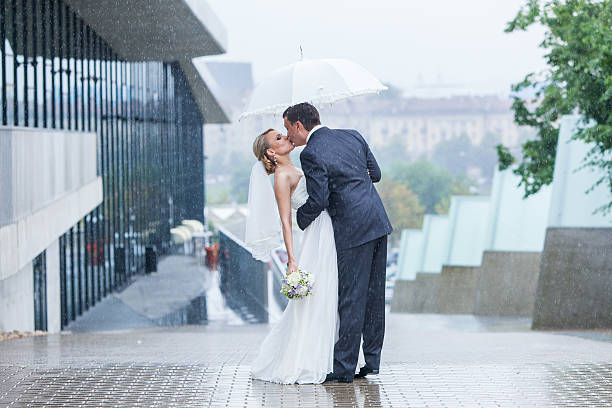 Rain Provides a Beautiful Backdrop
We've all seen the beautiful episodes of Endless Love. What made it sentimental and emotive was the scene where the lead actress Jenny held up her hand to feel the drops of the rain on her skin. Raise your hands up if you've seen this episode too. Going back, what we're trying to say is that rain makes for a good, creative backdrop to your wedding photos and videos. Imagine the scenic raindrops and the romantic ambient of falling rain on the roof. Your wedding day photographer will have a grand time being creative with all his shots. And while you're posing for the cam, you cannot help but relax – maybe lean in for a quick hug or two.
Rain Gives You a Chance to Cuddle Up
While taking photographs in the rain, an umbrella is an ultimate necessity. Couples who are not so keen in posing for the camera love a good prop! It takes away the pressure from them by having something to hold as the main focal point. And of course, posing under an umbrella will give you a chance to cuddle up with your forever. Hey, you don't want to get wet, do you? C'mon cuddle up and warm each other. The cold temperature will not be a bother.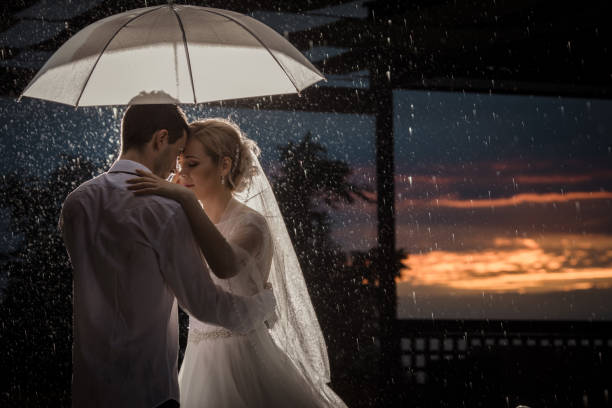 Rain Reduces Allergens
If you are one of the people who is blessed with allergic rhinitis and the sheer heat brings you sneezes and coughing fits, then having rain on your wedding day is a blessing (literally). Because according to science, rainfall can wash the allergy-causing pollens away, keeping it from flying through the air. The humidity that follows helps keep the pollen down too. Hey, science does not lie!
Rain Gives You a Touch of Creativity
Wedding events have gotten creative throughout these past fifteen (15) months. With changing quarantine restrictions and the event of sunny weather turned thunderstorms, couples have now looked towards flexible packages that will give them adjustments in case of an unforeseen circumstance. Indeed, wedding suppliers and clients have gotten creative as to planning their events. After all, love is not cancelled.
According to Google, there are a total of 14 typhoons in the Philippines this year. That does not include the typhoon that is the different, heightened quarantine restrictions. So, couples must plan and think of possible scenarios ahead of their wedding event. Luckily, garden venues like Jardin de Miramar offer a nice parachute tent to shield you from light rain showers. They also offer their indoor pavilions in case there is the dreaded typhoon on your wedding day. To add to that, they have several wedding packages that can cater to 10 – 300 pax! You cannot be sleeping on this!
Here are some wedding packages from minimonies (mini ceremony) to bigger weddings:
Silver Lining: A Celebration of Intimate Love
MINImony Intimate Wedding Packages
Say 'I Do' To a Big Wedding This 2021-2022
Rain Makes Your Flowers Even More Radiant
Flowers are known to wilt in the hot, scorching sun. So, when rain falls and the temperature drops, expect your flowers to be more blooming than ever! It can last long with the cooler temperature. You can even take it home in its full, radiant glory! Something to remember your special day by.
Rain Gives You Rainbows
Do you know that popular quote, there's a rainbow always after the rain? Well, indeed there is! And isn't that a nice ending to your wedding day? The skies have opened up and have celebrated your union in screaming colors.
How do you like the rain now, lovebug? Are you ready to have a full-on romance in the rain vibes? We sure do! Cue Alanis Morissette's song. It's like rain on your wedding day ♪ ♫
Check out these real #RomanceInTheRain photos of a Jardin bride and groom.